The National Geographic Society recognizes explorers from traditional and emerging fields through three programs—Explorers-in-Residence, Emerging Explorers, and Fellows—that bring you exciting new discoveries direct from the field.
Explorers recommend fiction and non-fiction books for children, young adults, and students.

Children ages 4-8

Dive! My Adventures in the Deep Frontier, by Sylvia Earle. "The pictures here show the state of the ocean, and the discovery that awaits under the sea."
—Sylvia Earle, oceanographer and Explorer-in-Residence

Face to Face with Lions, by Beverly and Dereck Joubert. "Twenty-eight years of research went into this book. It's a personal way of sharing our knowledge."
—Beverly and Dereck Joubert, filmmakers, conservationists, and Explorers-in-Residence

Everyone Poops, by Taro Gomi. "It helps people get over the 'ick' factor and embrace waste as a natural resource!"
—Ashley Murray, wastewater engineer and Emerging Explorer

Children ages 9-12

Poop: A Natural History of the Unmentionable, by Nicola Davies. "It's a great introduction to natural science! It's also just really, really cool. It tells you what is in an animal's poop, and where to find it. What color is poop from a blue whale? Read this book to find out."
—Jorn Hurum, paleontologist and Emerging Explorer

Young Adult

The Education of Little Tree, by Forrest Carter. "This young boy is orphaned and raised by his grandparents, who are American Indians. It was the first book that made me laugh, cry, and feel the pain the main character is going through. It's really about an identity crisis, and also about modern society."
—Juan Martinez, environmentalist and Emerging Explorer

Silent Spring, by Rachel Carson. "It might be obvious, but it's such a classic, and still relevant."
—Jennifer Burney, environmentalist and Emerging Explorer

The Double Helix, by James D. Watson. "It was so important, interesting, and inspiring, especially the story of a woman [Rosalind Franklin] so involved in science. I remember reading about where Watson and Crick made their discoveries about the structure of DNA—King's College and Cambridge University. Years later, I went to both King's College and Cambridge, and studied genetics."
—Hayat Sindi, biotechnologist and Emreging Explorer

Students

Cosmos, by Carl Sagan. "This was an important book for me. It's still relevant and has the best material. The TV show was almost as good!"
—Kevin Hand, astrobiologist and Emerging Explorer

The Swarm, by Frank Schatzing. "A novel about collective intelligence, using microbial life at the bottom of the ocean. It's speculative fiction, using real computer technology, oceanography, and marine biology in a story about the ocean fighting back. Uma Thurman bought the rights to the book, so it will also be a movie pretty soon."
—Thomas Culhane, urban planner and Emerging Explorer

East of Eden, by John Steinbeck. "A great book about morality and the consciousness of place. Steinbeck shows how we are limited and defined by geography and a sense of place."
—Barton Seaver, chef and Fellow

Guns, Germs, and Steel, by Jared Diamond. "It addresses important topics, including development, colonialism, and the natural world. It also talks about 'scientific racism'."
—Spencer Wells, geneticist and Explorer-in-Residence

The Wayfinders: Why Ancient Wisdom Matters in the Modern World, by Wade Davis. "It's the book on anthropology I would have liked to have had. It celebrates the cultural revelations of anthropology, much as Spencer Wells' work celebrates the scientific revelations about our genetic heritage."
—Wade Davis, anthropologist and Explorer-in-Residence

Citizens of the Sea: Wondrous Creatures from the Census of Marine Life, by Nancy Knowlton. "There are so many surprising, crazy-looking, alien things out there. I'm an engineer, and I don't know as much about marine biology. I wish I knew more!"
—Kakani Katija, bioengineer and Emerging Explorer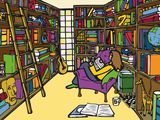 Join a Book Club
Book clubs are a great way to discover more about the books you love, the books you loathe, and if the book was really better than the movie. Some book clubs are focused on a particular type of book: science fiction, graphic novels, classics. Other book clubs are free-for-alls. Book clubs also offer insight into your own community and the people who live thereyou will not believe the characters in your own neighborhood.

Public libraries are usually an excellent source of information on local book clubs, and often host book club meetings themselves. Most book clubs are free, welcome new members, and meet about once a month.
Find Your Local Library
Public libraries are one of civilizations greatest resources. Find your local library. Talk to the librarians! They know media, and they know how to find what you're looking for.
Emerging Explorer
an adventurer, scientist, innovator, or storyteller recognized by National Geographic for their visionary work while still early in their careers.
environment
conditions that surround and influence an organism or community.
explorer
person who studies unknown areas.
Explorer-in-Residence
pre-eminent explorers and scientists collaborating with the National Geographic Society to make groundbreaking discoveries that generate critical scientific information, conservation-related initiatives and compelling stories.
fiction
media, such as books or films, that are imaginative and not true stories.
geographic perspective
a way to understand a topic or area using spatial features and relationships.
National Geographic Society
(1888) organization whose mission is "Inspiring people to care about the planet."
nonfiction
books, films, or other media that use facts and true stories.