Take a break and enjoy a summer vacation! From around the world to around your backyard, here are some travel books recommended by National Geographic staff.

Children, Ages 4-8

Round Trip, by Ann Jonas. "This picture book is wonderful! Read the story about a trip into the city. Then 'turn around and go home' by flipping the book over to see the hidden pictures of the ride back home."
—Kara West, copy editor

The Adventures of Lowly Worm, by Richard Scarry. "This was my absolute favorite book as a kid! I wouldn't go to bed without reading about Lowly's travels on a subway, roller-coaster, bike and even hot-air balloon. Lowly definitely influenced my passion for adventure!"
—Nina Page, web specialist (Education Online)

Who Pooped in the Park?, by Gary D. Robson. "This book explores Yellowstone National Park from a different perspective. It introduces tracking and how exciting scat can be! You don't have to see the bear or other wildlife to know that it was where you are."
—Michelle Johnson, earth science teacher

Toot and Puddle, by Holly Hobbie. "Toot and Puddle are best friends. They both love to explore the world. Toot travels around the globe sending postcards home to Puddle. Puddle has his adventures right at home. Holly Hobbie is a great storyteller and illustrator. Everyone in my family, young and old, loves these books."
—Daniel Edelson, vice president (Education)

Possum Magic, by Mem Fox. "This is a great story of how Hush is made visible again through his travels around Australia. He eats the specialties of his native land such as Anzac biscuits, mornay, and even a Vegemite sandwich."
—Brenda Barr, director (Education Alliance Network)

Eloise in Paris, by Kay Thompson. "Summoned to Paris by her mother, Eloise and Nanny leave the Plaza Hotel in New York with a dog, a turtle, and 37 pieces of luggage. According to Eloise, 'If you are going to Paris France you have to turn into French and go absolutely wild.' The irrepressible little girl becomes part tour guide and part language teacher as she shares her adventures in the City of Light. The sophisticated humor and the detailed drawings create a book for all ages."
—Nancy Wynne, middle school teacher

Children, Ages 9-12

Paddle-to-the-Sea, by Holling C. Holling. "This book tells an epic travel story through the lens of a small, wooden, carved boat set adrift by a Native American boy. The small toy travels along waterways from a wilderness area in Ontario, Canada, through the Great Lakes and the Saint Lawrence River and finally to the Atlantic Ocean, meeting many adventures along the way."
—Sean O'Connor, project manager (Educational Maps)

Mission: Explore on The Road, by the Geography Collective. "This is a great book by the Geography Collective, based in the UK. It provides great adventures to do on the road AND at home! Explore the universe in your own backyard, collect 'people stamps' or fingerprints from all the places you visit, draw a map of all the different accents you hear . . . no matter who you are or where you are there's no shortage of new stuff to discover!"
—Justine Kendall, project manager (Geography Awareness Week)

James and the Giant Peach, by Roald Dahl. "This is the story of how 10-year-old James Henry Trotter and his giant insect friends travel around the world in their giant, magical peach. Desperate to escape from James' terrible aunts, the friends fly around the world and have adventures involving seagulls, sharks, and Cloud-Men. It's a story of magic, loss, and finding your happiness."
—Samantha Zuhlke, contractor (Oceans Education)


21 Balloons, by William Pene du Bois. "Author William Pene du Bois does a fantastic job of creating a mysterious and worldly adventure that is equal parts exploration and scientific innovation. In an attempt to escape humanity for some time and travel the world, du Bois' protagonist, Professor William Waterman Sherman, departs San Francisco in a wicker house affixed to a large hot-air balloon. What begins as a leisurely trip around the world becomes a wild and intriguing adventure, ending with the professor floating amongst the wreckage of a mysterious platform affixed to twenty-one balloons."
—Zach Michel, contractor (Oceans Education)

The Mysteries in Our National Parks, a series by Gloria Skurzynski and Alane Ferguson (now also available as e-books). "This series celebrates adventure, animals, and national parks in a winning mystery format. Each book takes place in a different national park where an animal is in trouble. Wildlife veterinarian Olivia Landon is called in to help, along with her kids, Ashley and Jack, and often a foster kid. Somehow the kids always stumble upon a thrilling mystery that has them exploring the park for clues and makes each trip a vacation to remember! The first in the series is Wolf Stalker: A Mystery in Yellowstone National Park."
—Jennifer Emmett, editorial director (Children's Books)

The Incredible Journey, by Sheila Burnford. "When I read it the first time, I was about 9 or 10. Now, in finding it again, I think I shall read it again. Been about 20 years! I must've read it about a dozen times as a kid."
—Valerie Ostenak, artist

Inkheart, Inkspell, and Inkdeath by Cornelia Funke. "This trilogy is an enchanting tale about a 12-year-old girl whose life changes forever when she realizes that her father can read characters and objects out of books into her world. Meggie quickly learns that when something or someone comes out of a book, it is replaced by something or someone from her world. Meggie's mother has been trapped inside of a book, Inkspell, for nine years. Undesirable characters from the same book are trapped in her world and want to go home. This fantasy adventure series is a captivating journey made for true book lovers who are thrilled by travel and the exploration of other worlds."
—Julie Brown, education specialist (Oceans Education)

Young Adult

Redwall, by Brian Jacques. "This novel is one in a series of books which follows the lives of the animals that inhabit the fantasy world of Redwall. This is a country that includes every type of physical geography imaginable: forests, plains, coasts, volcanoes, swamps, and river valleys—just to name a few. And these distinct geographic regions influence the creatures that inhabit them and how they live their lives!"
—Rosemary Daley, GIS cartographer (Maps)

The True Confessions of Charlotte Doyle, by Avi. "Thirteen-year-old Charlotte finds herself on a merchant ship with a cruel captain, a mutinous crew, and months of empty ocean ahead of them as they sail from the Old World to New England. When she finally arrives, she tells her parents that her calloused hands are the result of having to do her own laundry—but that is a lie that conceals the perilous adventures of her journey. So how did her hands lose their bourgeois softness? Read this excellent YA novel and find out!"
—Alison Michel, associate producer (Educational Media)


Whirligig, by Paul Fleischman. "Teenager Brent Bishop makes a terrible mistake that ends up killing an innocent bystander. The victim's mother then makes an unusual request: to travel to the four corners of the United States and build whirligigs that look like her lost daughter. What happens next puts into motion a chain of events that Brent could not possibly forsee."
—Mary Schons, reporter

The Phantom Tollbooth, by Norton Juster. "Milo is bored. Everything around him is dull. Then, one day, a mysterious box containing a tollbooth shows up at his home. What else could Milo do but get in a toy car and go through the toll? On the other side, he discovers mysterious lands and colorful characters. This book is fun and funny. You'll be laughing all the way through."
—Shelby Alinsky, interactive editor (Explorer Magazine)

Students and Adults

Enlightenment for Idiots: A Novel, by Anne Cushman. "A laugh-out-loud account of one young woman's messy path towards her own enlightenment as she travels to ashrams and yoga centers from Bangalore to Mount Arunachala. Cushman's vivid descriptions literally fill the senses . . . you can smell, hear, and see the wonderful, terrifying, sensual, spiritual, cacophonous, glorious and breathtaking experience that is traveling through India."
—Kim Hulse, director (Geography Education Programs)

An Embarrassment of Mangoes: A Caribbean Interlude, by Ann Vanderhoof. "Husband and wife decide to take the trip of a lifetime by quitting their jobs, renting their home, and setting sail for a two-year adventure from Toronto to the West Indies. Vanderhoof uses humor and candor to describe the people they met and the food they ate, as well as the challenges they overcame on their journey."
—Elizabeth West, senior administrative assistant (Education)

Geography of Bliss, by Eric Weiner. "A self-described grump, Eric Weiner goes in search of the world's happiest places to see if any of them can cure him of his pessimism. He travels to Qatar, where citizens are fabulously wealthy and pay no taxes, to Bhutan, where happiness is actually a government policy, to efficient and civic-minded Switzerland, and beyond. I like this book for its globe-trotting, philosophical musings spiced with laugh-out-loud anecdotes."
—Amy Alipio, associate editor (Traveler Magazine)

The Heart of the World: A Journey to the Last Secret Place, by Ian Baker. "In this thrilling non-fiction book, expert climber and Buddhist scholar Ian Baker attempts to explore a five-mile section of Tibet's Tsangpo Gorge, which is so rugged and inaccessible that it's just a blank spot on maps of the region. While there's plenty of exciting writing about Baker's adventures, The Heart of the World also details Baker's growing knowledge about the Buddhist faith."
—Stuart Thornton, reporter

Birdsong, by Sebastian Faulks. "Literary retelling of the events and attitudes towards the Battle of the Somme and life in the trenches during World War I. The story is split into seven sections, which cover three different time periods. It flits through time and place; the descriptions are amazing."
—Mary Crooks, illustrator

Ecological Literacy: Educating Our Children for a Sustainable World, edited by Michael K. Stone and Zenobia Barlo. "This book is part of a series created by the Bioneers organization, and I have found all of their work to be fantastic. This is a collection of essays by people such as Wendell Berry and Fritjof Capra, and includes topics which range from looking to traditional cultures for how to teach about the environment to the impact of school lunches and the various scales at which to work to make real change in our culture of factory farming and 'factory schooling.'"
—Anna Switzer, program manager (Outdoor and Experiential Education)

Ulysses, by James Joyce. "Two heroes (Stephen and Bloom) perambulate around Dublin on one day—June 16, now celebrated as "Bloomsday" in the city. Each of the book's chapters is associated with a different place, most of them (from the beaches to the docks to Davy Byrne's Pub) still easy to visit. My favorite chapter takes place in the maternity ward of a big hospital. Best English-language book of the 20th century? Yes."
—Caryl-Sue, senior editor (Education Online)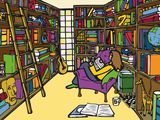 Join a Book Club
Book clubs are a great way to discover more about the books you love, the books you loathe, and if the book was really better than the movie. Some book clubs are focused on a particular type of book: science fiction, graphic novels, classics. Other book clubs are free-for-alls. Book clubs also offer insight into your own community and the people who live thereyou will not believe the characters in your own neighborhood.

Public libraries are usually an excellent source of information on local book clubs, and often host book club meetings themselves. Most book clubs are free, welcome new members, and meet about once a month.
Find Your Local Library
Public libraries are one of civilizations greatest resources. Find your local library. Talk to the librarians! They know media, and they know how to find what you're looking for.
ecotourism
act and industry of traveling for pleasure with concern for minimal environmental impact.
environment
conditions that surround and influence an organism or community.
expedition
journey with a specific purpose, such as exploration.
exploration
study and investigation of unknown places, concepts, or issues.
fiction
media, such as books or films, that are imaginative and not true stories.
geotourism
tourism that sustains or enhances the geographical character of a place—its environment, culture, aesthetics, heritage, and well-being of its residents.
memoir
autobiography, or an account of a person's life written by that person.
nonfiction
books, films, or other media that use facts and true stories.
sustainable tourism
industry that seeks to have the least impact on the places and cultures visited, while contributing to the local economy.
tourism
the industry (including food, hotels, and entertainment) of traveling for pleasure.
tourist
person who travels for pleasure.
travel
movement from one place to another.