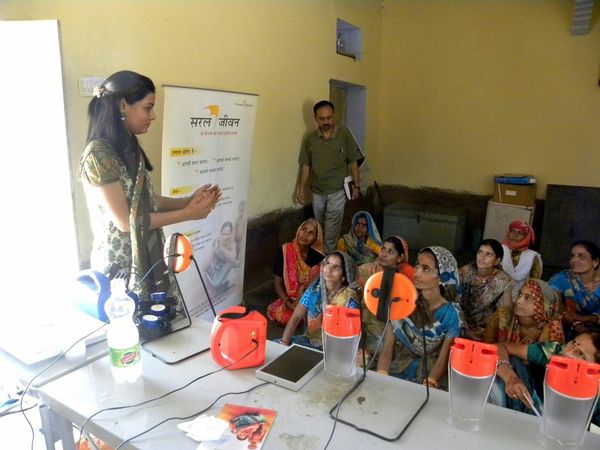 Photograph courtesy Frontier Markets
Great Energy Challenge Innovator: Frontier Markets

Project: Phone-Charging Kiosks to Provide Solar Services and Generate Income

Location: Rajasthan, India
Summary: Frontier Markets has developed a channel to bring clean energy products and services to rural households in India. The organization works with local villagers to educate and demonstrate the benefits of solar energy and then distributes solar products through franchised retail and service centers. Frontier Markets creates solar mobile charging kiosks that are placed in key areas to engage thousands of rural households. The kiosks offer access to viable products for households to save money, earn income, and improve their standard of living. (See related story: How One Woman Helped Light Rural India With Solar Lamps .)
The primary purpose of the kiosk is to provide free-mobile phone charging via solar technology as a service and promote both the financial advantages of solar and the improvement of daily life. Kiosks are strategically located to engage farmers, dairy owners, schools and local government points. Kiosks charge cell phones, conduct demos of various solar products and attract households to return and learn more. The kiosk is the medium to engage the rural household, and get them excited about solar.
Frontier Markets' kiosks are branded and mobile, which can be sold to local entrepreneurs who want to become a local retail point, selling smaller and more affordable products with margins. This will become a significant income generating activity for local entrepreneurs. Frontier Markets provide kiosks, demo products, training, and assistance in educating and selling solar products. Entrepreneurs become franchisees of Frontier Markets selling solar products to their villages and generate income; Frontier Markets also provides servicing for all products through their own local service centers, creating a holistic and sustainable approach to scaling solar energy initiatives in rural India.
Goal: Generate entrepreneurial opportunities in solar energy via microfranchises and expose local households to solar education and access
Project participants: Frontier Markets (Ajaita Shah, co-founder and CEO)
The Great Energy Challenge grant program, in collaboration with a distinguished group of scientists acting as the board of advisors , awards roughly a half-dozen grants per year. The goal of the grant program is to hasten the growth of promising, global energy solutions as a response to climate change, energy resource constraints and environmental limitations.
---
The Big Energy Question
What innovation should shape transportation in the future?
---