Tracy R. Wolstencroft
President and Chief Executive Officer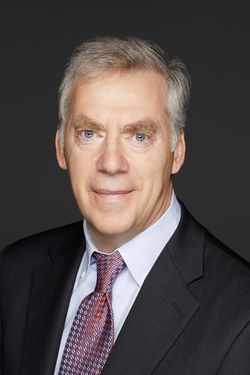 Photograph by REBECCA HALE/NATIONAL GEOGRAPHIC
As president and CEO of the National Geographic Society (NGS), Tracy R. Wolstencroft oversees the institution's global strategy. His responsibilities include advancing the Society's legacy of—and continued investments in—groundbreaking science, exploration, education, and storytelling. He serves on the Society's board of trustees as well as the board of directors for National Geographic Partners, a joint venture between NGS and the Walt Disney Company.
Prior to NGS, Wolstencroft's international business career spanned more than three decades with expertise ranging from global finance to executive leadership consulting.
Wolstencroft was a longtime partner at Goldman Sachs, where he worked from 1985 to 2014. He led a wide array of the firm's investment banking businesses in the United States, Asia, and Latin America. Upon retiring, he served as an adviser to the firm and as chairman of Goldman's global clean technology practice.
He went on to serve as president and CEO of Heidrick & Struggles from 2014 to 2017 and led a transformation of the firm's purpose, values, and the integration of executive search with broader leadership and culture-shaping solutions. He subsequently became chairman of its board of directors.
Wolstencroft has contributed to many nonprofit organizations, including as co-chairman of the International Rescue Committee. He currently serves as a trustee of the Brookings Institution and is a member of the Council on Foreign Relations.
Wolstencroft graduated with a B.A. from Bowdoin College.